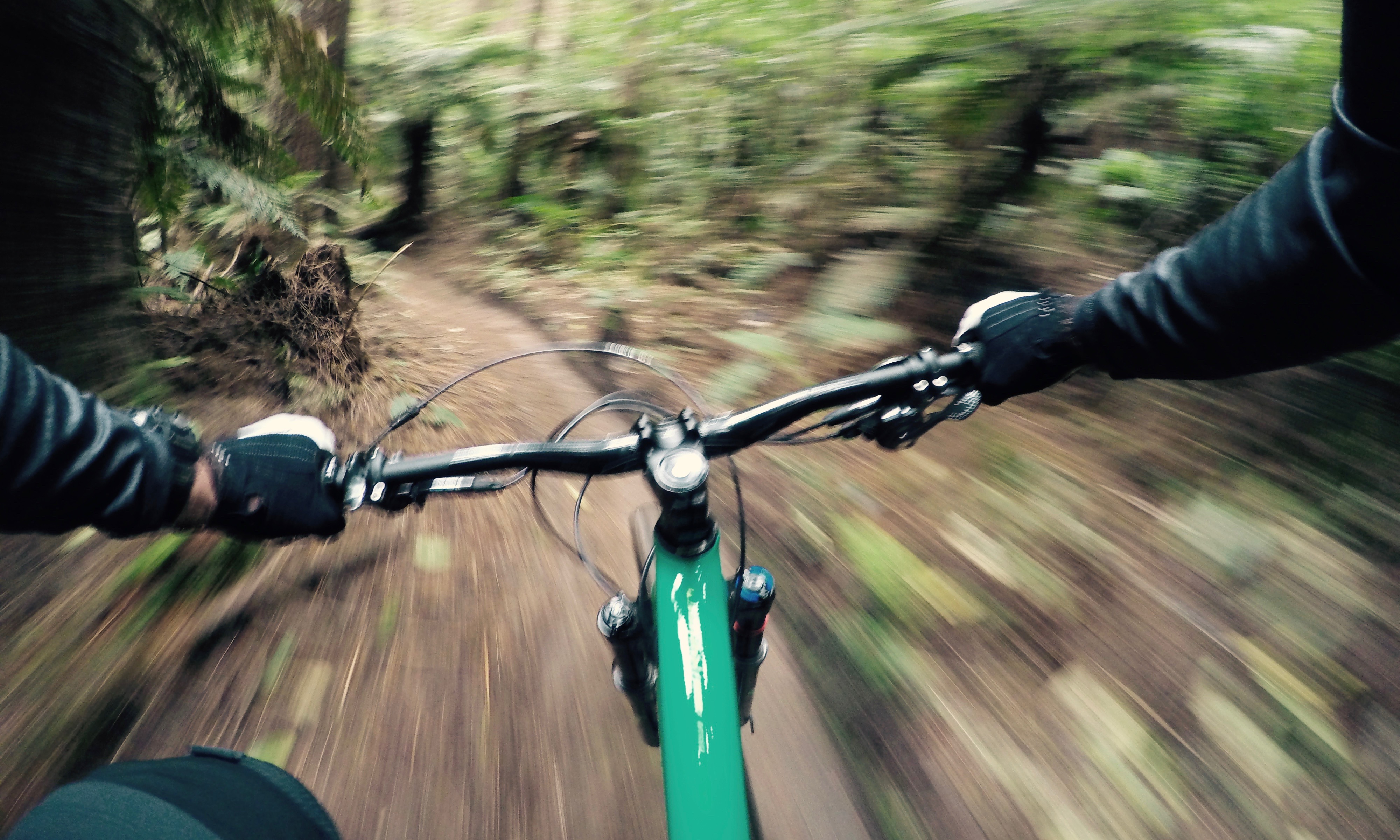 Every 5 years or so I upgrade my mountain bike; the advancement in tech coupled with replacing really worn out stuff tends to get the sweet spot of upgrades – a sufficient leap to go "this is unreal". 2 months ago I put the old Remedy 9.8 on TradeMe and wheeled a Giant Reign Advanced 1 in the garage.
An angst ridden process buying a new bike is not to be taken lightly. The golden rule of "do not ride what you can't afford" makes it even worse. Often site unseen based on magazine reviews (PinkBike/blog/YouTube) you can be caught in an endless loop of what do they ride, what do I ride like, what's their version of x, what's my version of x. In reality you need to get out there and ride the damn thing.
I was looking to upgrade for about 8k total outlay less whatever I could get for the old rig. I typically try to get one level down from top of the line components. Searching through the various options I came up with the new range of Enduro machines. Giant Reign, Specialized Enduro, Norco Range etc etc…
Narrowing it Giant kept coming up top of my list. Unfortunately I couldn't get my hands on the carbon version to ride but I could get on the alloy version. Here's my gut reactions coming from a 5 year old top of the line Carbon All Mountain bike :
Holy shit the suspension is awesome, just on the spot seemingly no stiction
These 650b things; interesting… easier technical uphills, but man there's some inertia
Hey this is position wise easier to climb on
Hmm notice there's some weight
Holy shit it's planted downhill/It almost feels dead it's soaking up so much of the trail
Now there's one thing with Giant – their pricing is hard to beat; the component spec for the money you get is insane. I was looking elsewhere (Norco, Specialized) however I couldn't keep going past Giant. This particular buying decision as #PrettyDamnHard as the Advanced 0 was at the price point/weight I'd wanted; yet the Advanced 1 was such a good deal…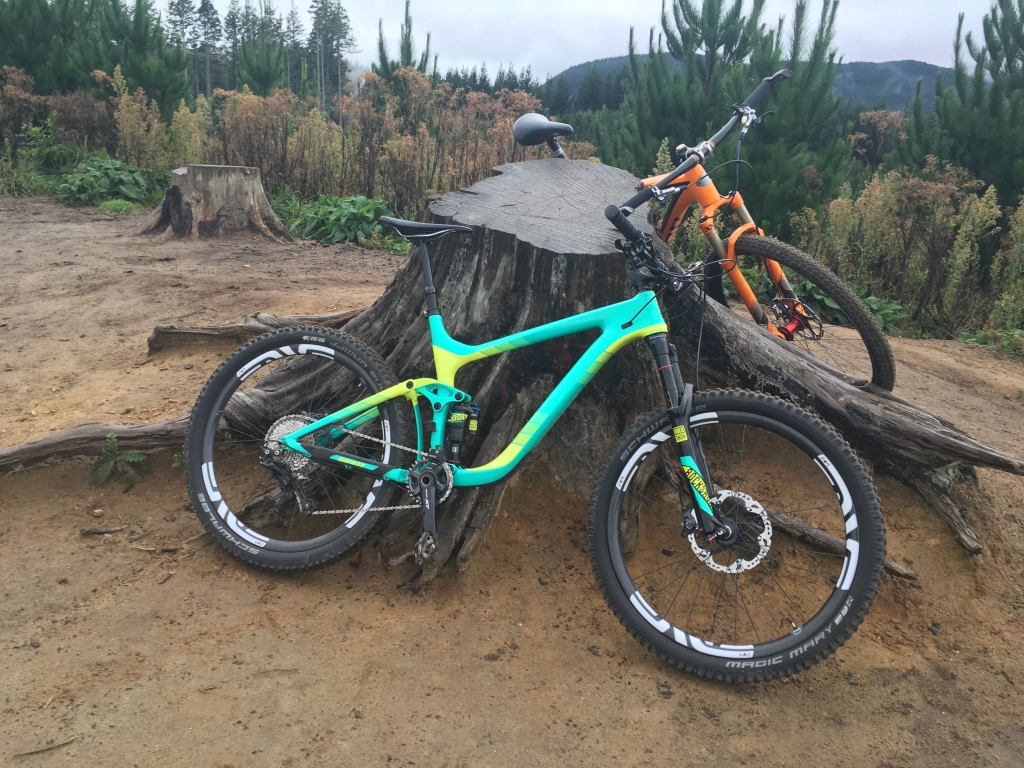 Advanced 1 vs Advanced 0 
So after eliminating the competition for various reasons it was down to the A1 vs the A0 – the A1 was in the store; and well, the initial reaction being "wow that colours a bit weird" however after seeing it a few times the colour started really growing on me – a beautiful glossy bright gloss cyan and yellow. The A1 was a bit heavy than my '11 Remedy 9.8 which was a hard mental block to get through. For the money though – on sale at under 5.5k it was insanely good value…..
The A0 was going in my clear winner pile as I really wanted to keep the weight down; due to Giants rules Torpedo7 couldn't get one in for me to look at – luckily the lad helping me out in store brought his own personal one in (big ups to Torpedo7 Albany!). Upon seeing the colour in person that changed the decision pretty rapidly. I can tell you, in person vs on the web the colour is very different – you expect a flat/matte mid-light blue, in person it's more like a semi-gloss blue that looks (in my opinion) quite average. Not really sure why they did this – had they kept the same gloss as the A1 it would have looked awesome…
Couple that so-so colour with those XX1 components, nice, sweet, light and horrendously expensive to replace. $450NZD for a derailleur vs $150 for an XT. Post purchase maintenance is something to factor into the decision process – despite the sexiness of XX1, a $500 mistake on a rock is pretty tough to stomach. So what's a lad to do who likes his carbon, and likes low weight…
Advanced 1 + ENVE = Oh yeah….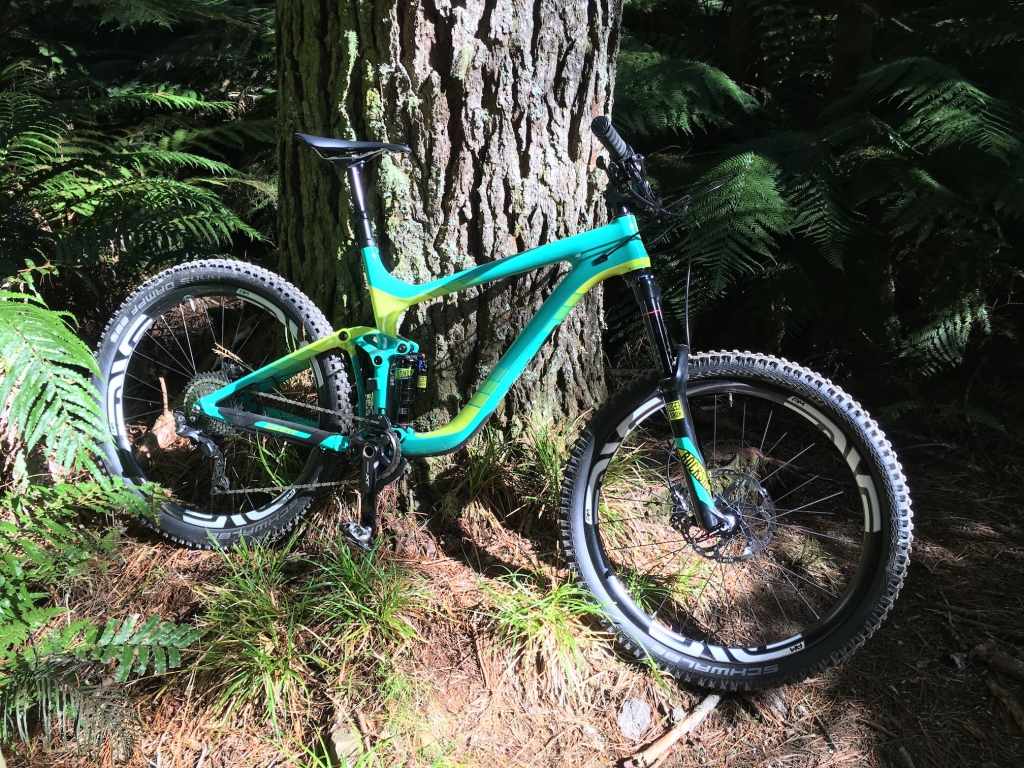 Given the price difference was so big ($5500 to $~8500NZD) I decided to go with the A1 and put the difference in to spec'ing up an A1 how I wanted it – stick with the cheaper to replace XT 1×11 but drop weight elsewhere. At the time Torpedo7 had a deal going on some super awesome all Carbon ENVE AM wheels with Chris King hubs. For basically the same price as the A0 I would get the A1 with these on it. Now we're talking. RRP was hideous and I never would have bought them at – I'm actually half embarrassed riding around on them lest anyone thing I paid full retail.
First Ride
Wow those carbon rims make a difference.
Gone was the sluggishness of the alloy rims. And man is it quiet – with the clutch on the Shadow+ engaged, in the middle gears, it's eerily quiet rolling along. A grin a mile wide. No hesitation on the colour scheme – it stands out like dogs balls.
"Descends like a Mountain Lion on Cocaine**"  Quote credit to random PinkBike commenter
What an apt description. Yes it's a little stiffer to climb than the old Remedy; particularly steep fire road stuff tends to be a bit soul sucking, but once the trail flattens off and starts going down holy sh*t the bike wants to go. The Reign absolutely wants to be wrung out.
I've never had a Chris King hub before, is there a performance difference I can tell? probably not, does it sound rad coasting down the trails? abso-lutely.
200km in…
Haven't broken anything yet. The Chris King hubs have needed a few adjustments and I've bled the XT brakes once. The headset developed a creaking nothing that a tighten of said headset wouldn't fix. The paint I wanted to protect so got some Invisiguard (in another post). Adjusted the brake levers down a bit more which made wrists a lot happier. After the first really big climbing day (800m) I ordered a 30T front ring, interestingly it's sat in the garage ever since and I haven't run out of legs since.
Every ride is just off the hook. Aches and pains in wrists and ankles post riding have more or less disappeared- the suppleness of the Monarch Plus/Pike have a lot to do with that.
There's more than one ride I've gotten way too much speed up and mid corner had to deploy full anchors to stop going over the edge. It is so incredibly adept at wanting to go fast you have to be careful to check yourself. The geometry is so useable what I might have had second thoughts or a nervous moment on I just go for it now.
A trail I never would have made it out alive on the Remedy at speed I just about lost my shit (in a good way) on the Reign – "Kung Fu Walrus" a nice Grade 4 downhill with some techy sections. I do notice the bike is "big" the tradeoff for it's stability at speed is the odd tight bit gets interesting/less gracious than it could be.
The XT brakes are quite bloody good, fantastic modulation – the more I ride it the more I get to trust them.
Overall? Wouldn't swap it for the world. 11/10.
700km in…ride report
– Put the 30T ring on, much better for the big Rotovegas climbs.
– Replaced a chain – worn (granted Woodhill is akin to grinding paste in winter)
– Broke one derailleur in a massive high speed crash; was very lucky not to break myself – had 3 months recovery from a huge thigh hematoma, as close as you will to fracturing my leg.
– Broke the seat in another crash; just replaced with a Fizik Gobi.
– Dropper is showing some signs of wear.