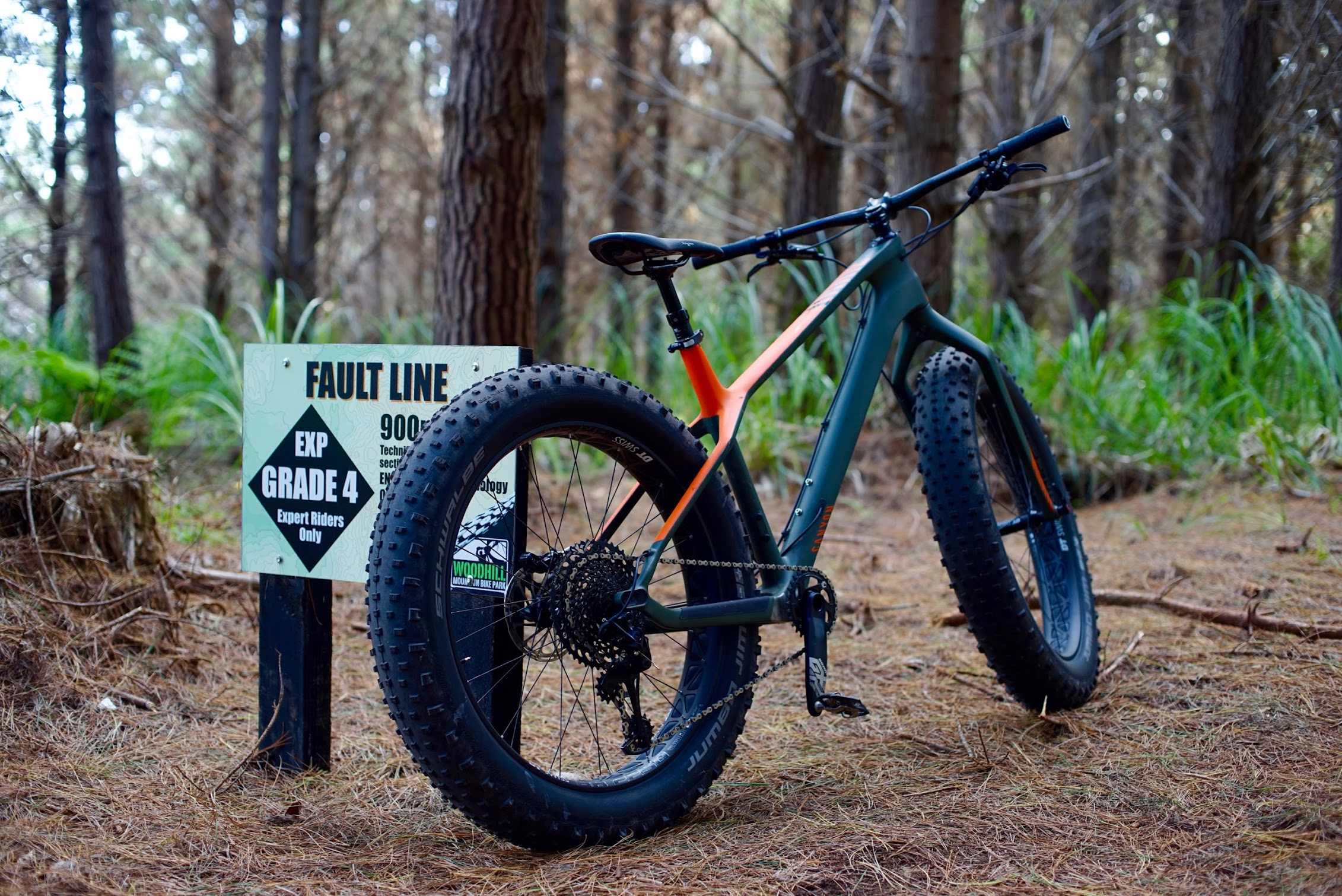 "It didn't take long before the upgrade itch took hold
New bike and upgrading it already? Well see I'd acttuuually wanted the Ex model, however the ship date was too far out so I settled for the 'Unlimited' model, sans suspension fork, dropper post, 4.8 vs 4.0 tyres and black paint vs forest green/orange.
I figured I would upgrade/change out a few bits and see whether I wanted the front suspension fork or I whether I could live with the full rigid fatty.
Well, lets just say, it didn't take long to upgrade.
Update: April 2018  – Manitou Mastodon fork added into the mix
Carbon Bars
Thomson Trail Carbon 750mm
So this was straight up done out of the first ride. I'm not a fan of alloy bars and my other bike runs some swanky Carbon. This time round I didn't pay the ENVE tax, instead Chain Reaction had a good deal on some Thomson Trail Carbon bars.. I went with slightly less sweep as I've got a long torso and arms, so just wanted to space the cockpit out alitte.
Install time: 20mins 
Coolness factor: Looks cooler
Weight: Tiny weight saving (80-100g).
Performance: Erm, less weight?
Would I do it again: Yep .. takes the hard edge off vibrations. Just be careful and make sure the positioning of levers is where you want it, the clear coat had indents after tightening up levers (to 3.5nm…) 
Dropper Post
2018 MY Giant Contact
Next up a dropper post. The modern marvel of mountain biking and an absolute essential. I'd just replaced the dropper on my Reign from it's original Giant Contact (MY16) to a 2018 MY Giant Contact.. much slicker action, looks good, and cheap as chips. Torpedo7 club price is around $200NZD. Why would you go with anything different?
Install was pretty easy, I went with the slightly ghetto method of routing the cable out of the seat tube, across into the down tube port. When I get a new seat post clamp (I hadn't had the foresight to include one in my last Chain Reaction order) I'll spend the time and route it properly. Doing this I also fixed up the routing on the LH brake as it was just plain wrong.
The dropper has 150mm travel and I still use every mm of that on some downhills. Which is amazing as on the Reign I'm never feeling like I get that low.
Install time: 1hr + 
Coolness factor: Slam that seat down
Weight: Gain +300grams
Performance: Stay on the bike going down
Would I do it again: Yep
Hub upgrade
DT Swiss 54t Star Ratchet
I never used to pay attention to those hubs that sound like angry killer bees down the mountain. Then I got one. Then life changed.. well, not quite but I started to see what the fuss was about. The short version is, when cranking up slow/techy stuff a hub with fewer points of engagement (ie a generic hub) the pedal cranks have greater movement between each engagement point, so you've got more pedal travel before something actually happens. Which when you're on the edge of falling off can make a difference. The (up?)side effect is you get the killer bee sound.
So the standard hubs come with 18t ratchet gears inside them. Guess what? you can buy replacement ones with more teeth in either 36T or 54T, naturally I went 54T. So I hunted down a set (actually a little easier said than done) and installed them. Took about 30mins to whip the cassette off, pull out the old ratchets, grease up and install new ones. Instant upgrade. Yes it's louder, but most importantly engagement is noticeably faster.
Why it wouldn't come standard is anyone's guess.
Install time: 30mins 
Coolness factor: It's louder/zingyer, take from that what you will 
Weight: n/a
Performance: Better pedal engagement 
Would I do it again: Yep
Tubeless conversion
The most awkward named product of the lot
Okay www.fattystripper.com, there I said it. A big latex band that goes around your rim, then you put your tyre on afterwards. A little more time to install/retrofit but well worth it. Weight saving of 300g per wheel (!!!).
Install time: About an hour 
Coolness factor: Erm.
Weight saving: 300g per wheel
Would I do it again: Yep
1 month in
A few tweaks and mods later
So I've had for now a tad over a month and what am I thinking? The little upgrades have certainly helped personalise it more to my tastes and I'm getting more used to riding a full rigid so it's not quite as brutal as it was on choppy downhill sections. It's super fun in it's own off the wall unique way.
I actually didn't expect to be going out to my local bike park and dropping PR's nearly every ride. Compared to the Reign it's an absolute demon getting up hill climbs.
Compare the following two graphs, on the left is the standard hillclimb, on the right a faster downhill run (mild). My fastest time on the Dude vs the 3 fastest on the Reign.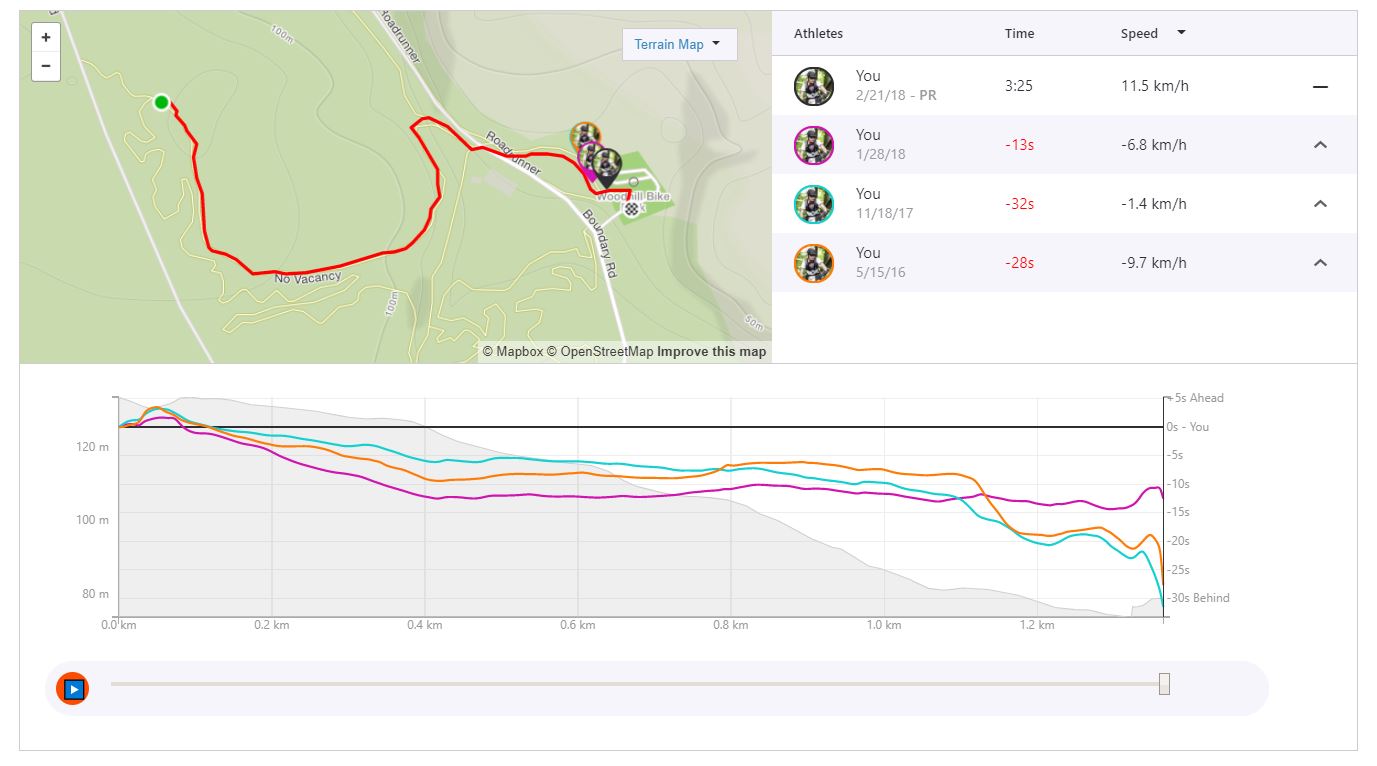 The real surprise is the right hand graph, that's a little bit of downhill, that's at the top quite tiring rollers, twisty corners, then gradually opens up into faster & rougher terrain. I was chasing someone on a Zerode Taniwha, so I'm not sure if it counts, but you would not have expected that. At all.