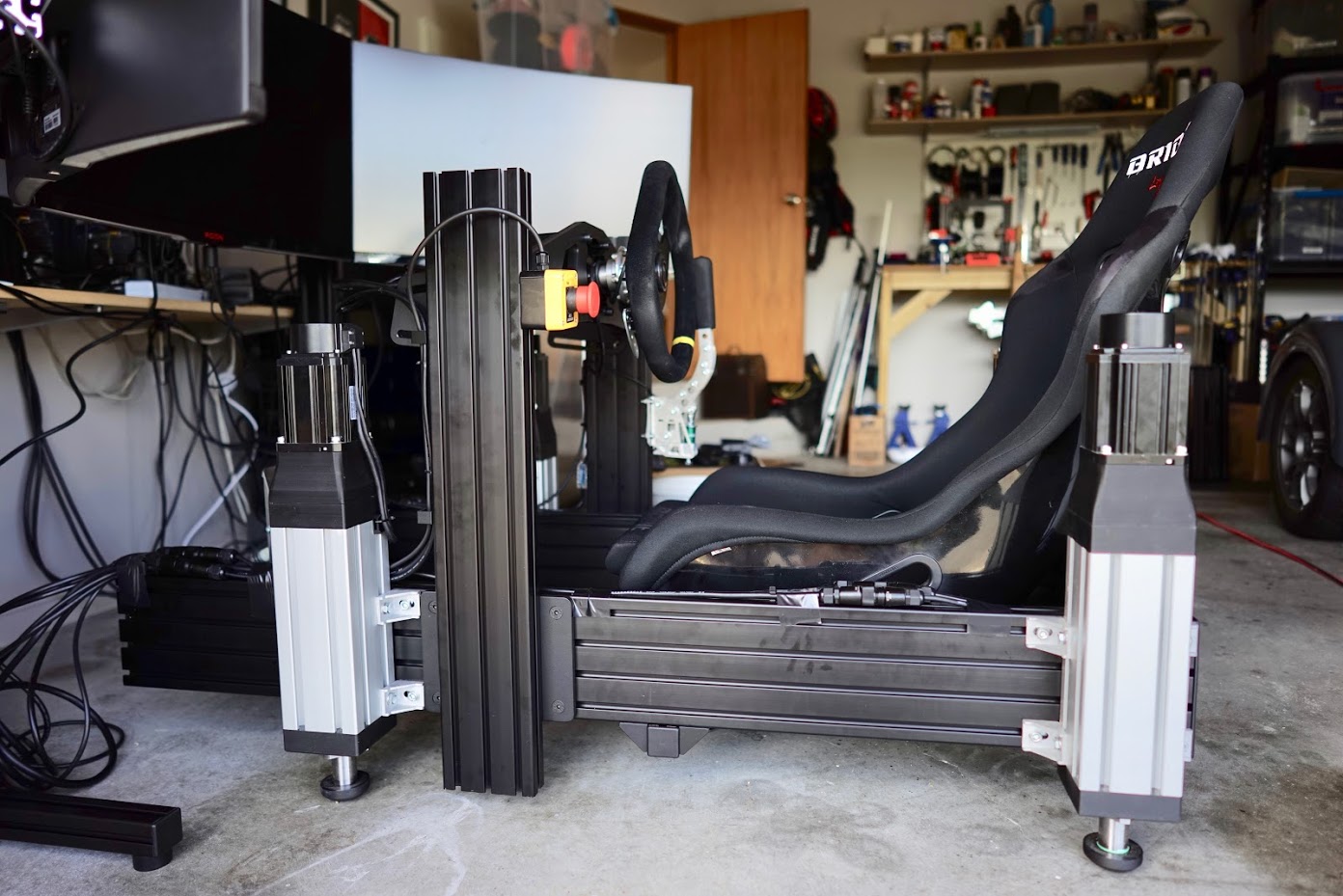 Okay so I really don't like writing reviews like this but I had of wished I'd found the stories before ordering mine. I can sum this review up into this :
Design is good, looks good when done, quality and service is absolutely terrible.
This is my simlabs ordering experience
Bounce a few emails back and forth. I wanted a slightly customised P1 black with the pedal box cut narrower for the SFX. Noting my first email was sent and not replied to in 12 days.
Make the order Day 1
Wait patiently
Then decide last minute I wanted a triple stand – Richard was very accomodating and said he'd add it to my order.
Whoops, next day "sorry it didn't get merged with your order, but don't worry we'll ship it out next day. Let's say this is Day 12.
Day 14. Next week, still haven't shipped but on the Monday my rig arrives
Start to unpack it, joy turns to sadness…. Exhibit A, B, C, D, E, F….
They had packed the extrusions just as if they had been cut with the aluminium swarf still on them !
I brushed off all the swarf onto a piece of paper
A good number of extrusion pieces were scratched in some form, with some long scratches indicating they were damaged on the saw bench
I send an email with photos
To SimLabs credit they offered to replace any extrusions, but I didn't want to go through the hassle and waste, so I re-oriented the extrusions
Next day I start going to assemble some things and then notice some bolts missing
Instructions aren't included in the box, so you download from the website (good luck if you didn't realise that was the case..)
The BOM you receive and the BOM in the instructions don't match… how do I know what I should have? (Note they're really generous with extra bolts)
Finally figure out I'm missing 4 bolts for the wheeldeck. Send email and photo, only to be questioned am I sure.
Get across the message, yep I'm sure.
Next day go to assemble the next bit and then realise my pedal rails were cut to 500mm instead of 480mm.
Email; immediate response "Sorry, we'll ship those out ASAP"
Now by this stage a week after when there was supposed to be a triple screen in stock, I said "look save me the trouble, bundle it all together… so I only have to be home 1 time"
"We'll get it out end of week"
End of week comes and goes, a tracking number was sent for 2x parcels
Monday comes and goes, a new tracking number for 2x parcels.
Now on Wednesday, I see 1 tracking number had 1 parcel sent, but not the other.
Cut a long story short, finally got all parcels..
Untold emails, terrible quality of the parts arrived. I've ordered a lot of stuff online and this is by far the worst online purchase experience I've had. It's fair to say that my usual friendly nature dropped off significantly.
The rest, you know what a P1 is like.