Thank you, Team Kunos
Stefano, Marco and the gifted team of developers behind Assetto Corsa Competizione,
The beers that go with this note is a token of my gratitude for your hard work. I thought I would write a short story to share how your sims are used and provide fun on the complete other side of the world, in New Zealand.
The start
My Kunos journey began a couple of years ago. I purchased Assetto Corsa after years of various other arcade and sim racing games. Assetto Corsa was finally "the one" that modelled the feeling of cars properly, with great graphics, amazing sound, that led into a pretty rapid descent into the sim racing world. Thanks to AC I built this sim rig with an OSW setup.
AC has lead to many hours of enjoyment chasing hot lap times on RSR live timing. The 911 GT3 on the ring has cost hours of frustration and elation dropping my times slowly but surely. The modding community brought the 80's and 90's F1 era alive with a symphony of sound echoing around the garage. Its as close as I can get to going around the track in one. I've sat in one and I can tell you, it felt terrifying standing still…
The highlight of AC in my mind, however, has to be the group C monsters, trying to reign in the Sauber or the ear piercing scream of the Mazda 787..
Now, you will have noticed something in the background. I got this built. It's got a lot of power and not a lot of weight.
Unfortunately what they don't tell you, is sometimes, despite all best intentions, motion sickness can become a problem. With sticky semi-slicks this machine can see peak lateral numbers of 1.5 – 1.7G. After 3 laps at one of the tracks I get very very sick (which in a race suit, HANS and Helmet is no fun at all!). So no sooner than I had my ultimate track toy – I've had to give up going to the track.
But not in the virtual world ! Assetto Corsa is now my replacement for going to the track. My better half is much happier as she doesn't have to worry about a big accident. I can therefore put more $ (guilt free) into the sim rig.
Building a car like the above, I have acquired a bunch of friends who also have those cars, and guys from the workshop that built it. They also ALL love AC and love coming round on the weekends. It's awesome fun watching  how quickly they progress and want me to turn the FFB Gain setting up. It didn't take long for a hall of fame on the garage fridge. I have a standing 20min challenge "best time in 20mins, no more"
And now.. Assetto Corsa Competizione 
At this point I should say I was pretty damn excited the minute I saw the videos of ACC. For my job I lead an R&D team for engineering (construction) software with a 3d engine. As such a number of us were looking over the videos, looking at the graphics – really blown away with what was about to come. When the Misano wet track video came out one of my colleagues and I both looked at each other "that's pretty sweet!"  going forwards and backwards through the video – with the approving head nod.
I watched the SRO presentation and was stunned that your dev team had risen to such a prominent position in the motorsport world. Exciting times for eSports are ahead!
When EA release day finally occurred (releases drop around 4AM NZ time). I set the download running, had my morning espresso, and then had 5 mins squeezed in before work and my jaw was dropped. Kunos have done it! The game lives up to the videos! Suffice to say I was not at work at my usual time that morning. That weekend one of my friends came in, and you can imagine the sounds out of the garage all Sunday afternoon….
The genius approach of 1 car, 1 track, and a global leaderboard.
This says it all…
PC 86
(Bought some Heusinkveld pedals)
PC 92
(Other half goes on holiday for a week)
PC 94
PC 96
……. the night before the 0.2.0 release, and board reset, I managed to get 450 ms off and lost it all in the last corner! Ahhh ! What would I have got to ? Begrudgingly I had to step away from the rig and go to sleep.
We've come a long way
Technically ACC is incredibly impressive, the visuals are pushing my hardware to the absolute limit (I like that, that means futureproof!), the sounds are visceral, the online leader board and rating systems have added an entirely new – competitive – element. I love the physics – it pushes you to get better, and you get rewarded with the PC score creeping up.
To think, I began with this on my Amiga 500 growing up: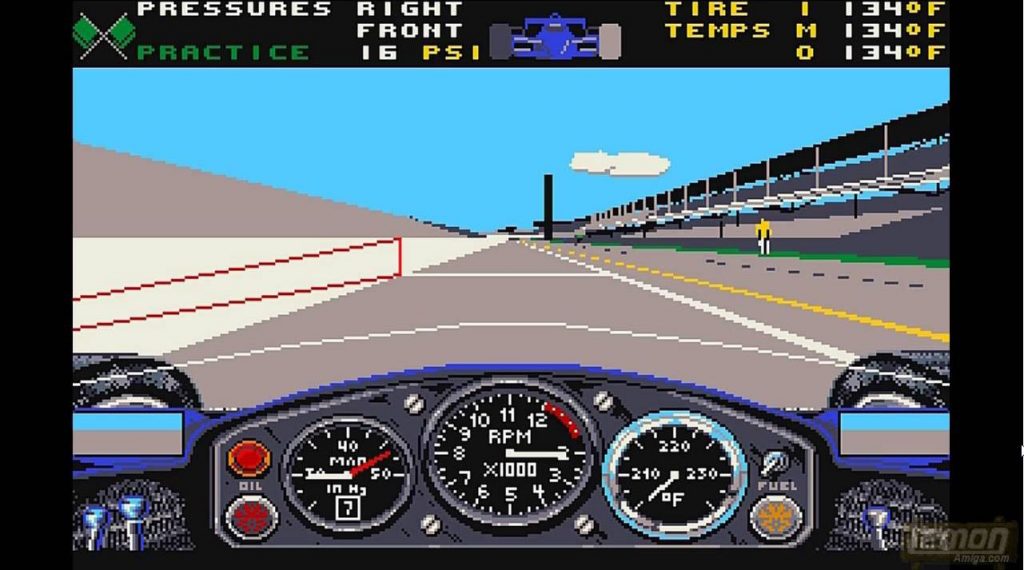 To this, running a watercooled, monster PC, 8CPU/3584GPU cores, exhausting 100's of watts of heat, with a wheel attached to an industrial servo drive which needs an e-stop button, pedals with incredibly accurate load cells that feel like the real thing, racing against 6000+ other people on an global leaderboard, where 1/100ths of a second make a difference in your places. Oh yeah! The difference between the Bentley and Lamborghini is night and day – really good choice launching those two back to back. I can not wait till the AMG GT3 drops – that machine is just going to sound awesome and be a blast to drive.
From myself, and my friends who love the Assetto Corsa Series. Thank you. Your future is bright – may ACC be an incredible success for you.
Saluti !
Rowan Hick.
(SteelyEyedMM on the forum)